News for Members
Message from Peter Davis & Harry Jacques (10 August 2021)
I am delighted to bring you the good news that Oakham Choral Society rehearsals will resume from the beginning of September. Harry Jacques will be once again working with the choir on a Winter Term programme of Baroque choral works by Handel (Foundling Hospital Anthem, 'Blessed are they that considereth the poor') and Purcell ('Come, ye sons of art') to be performed in a concert on Saturday 11 December in Oakham School Chapel. Recommended recordings of both works can be found by clicking on the following links:
Handel – Foundling Hospital Anthem (concluding with the Hallelujah Chorus!)
Purcell – Come, ye sons of art
We would love to invite all former members of OCS to return to our regular weekly rehearsals, which will begin on Tuesday 7 September, running in the School Chapel from 6:15pm to 7:45pm. Though Government guidance now permits the resumption of choral activities, we remain fully committed to the safety of our members. Rehearsals will take place in the congregational pews in Chapel to facilitate wider spacing between singers, and hand sanitiser will be available on arrival in the Chapel. Whilst it is permissible for singers to rehearse without wearing masks, we fully respect that some members may feel more comfortable wearing a mask at all times (and may wish to consider investing in a singer's mask, e.g. here). Harry and I are confident that we can all support each other and respect members' individual decisions regarding masks and distancing.
New members would of course be most welcome at our first rehearsal, so please do spread the word! We really value our well-established musical connections with the local community, and are dedicated to ensuring that OCS is open to all and offers a rewarding singing experience to people of all abilities. Just as importantly, we would also welcome the help of members in ensuring that this news reaches members who are not on our e-mail mailing list. Above all, we are very keen to ensure that we have healthy numbers of soprano, alto, tenor and bass voices. Harry will also be focussing on vocal health, including breath, tone production, projection and stamina-building in the opening weeks of rehearsals after a prolonged period away from singing for many members.
There will be no change to subscription levels, which remain at £35 per term for individuals, or £55 for couples. It would be hugely helpful if as many singers as possible could bring their subscription to the first rehearsal (either cheque or cash) in an envelope marked with their name, voice part and contact details.
Copies of the Purcell will be provided to members free of charge at the first rehearsal. However, you will need to obtain your own vocal score of the Handel 'Foundling Hospital Anthem'. This needs to be in the edition EP7228 published by Edition Peters (ISMN 9790300755311). Where possible, please support local retailers by ordering your music well in advance from either Walkers Bookshop in Oakham or Stamford Music Shop, but this score can alternatively be ordered online via Presto Music here (though other suppliers are available).
As always, you can find further information on the OCS website www.oakhamchoralsociety.org.uk, and Harry can be contacted directly at hrj@oakham.rutland.sch.uk.
Full details of the Autumn Term music programme at Oakham School can also be viewed in our online Arts Calendar.
<![if !vml]>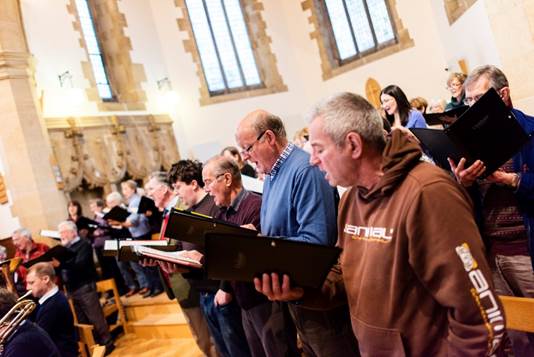 <![endif]>