News for Members
Message from Harry Jacques (17 December 2019)
Following an excellent concert on Saturday 8 December, I would like to congratulate members for their achievements and thank them for their support and hard work over the past term. As ever, I am hugely grateful to Sarah Glynn for her support and organisation, and to Liz Murphy for her fabulous accompanying. The programme offered a mix of contemporary and well-loved pieces that were well-received by those in attendance, with the fully-assembled Rutter's Gloria still ringing in the ears of many a few days later at the social Christmas dinner, which took place at The Admiral Hornblower in Oakham. This was a delightful occasion where, despite many members (myself included) arriving in a downpour of rain, spirits remained high and members took the chance to get to know each other better. The evidently pleasant atmosphere was a sure sign that social events should become a customary part of the Choral Society's engagements. I look forward to more such occasions in the future.
Oakham Choral Society's concert in March 2020 pays tribute to Ludwig van Beethoven, whose 250th birthday we celebrate later in the year. The Mass in C (1807) and Choral Fantasia (1808) represent two of Beethoven's major choral works, the latter showing the thematic roots for the infamous Ode to Joy, which follows a concerto-style scored Fantasia for piano with orchestra. I am delighted that Anne Bolt, Oakham School's Head of Piano, will be our pianist for this performance. For members who already placed orders for copies of both pieces of Beethoven (Novello editions for both), these are now available for collection from Walkers Bookshop in Oakham. Please be mindful that Walkers do not stock scores but help us out by ordering an exact amount of copies from a list of names that we collected in November. For advice on scores, please feel free to email me.
As ever, please continue to do your bit in helping us recruit new members. We welcome people of every voice and level. For musical reasons, we would especially love to gain some more tenors and basses in our ranks.
<![if !vml]>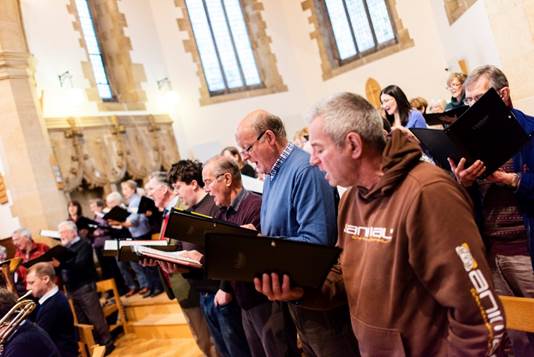 <![endif]>